Free typing tutor * Online typing test * Typing games
Snowy: Treasure Hunter
Snowy is on the hunt for riches and fame. Help him today!
---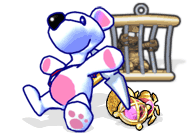 Who says polar bears want to stay in the Arctic? Snowy the Bear craves excitement more than a home on the ice! In Snowy: Treasure Hunter, the adorable white bear grabs his pick axe and shoulder bag, and sets out to collect riches as he travels through three beautiful game worlds. Throughout his side-scrolling adventure, Snowy must dig holes in platforms and use special items to outsmart one devious enemy after another. Play Snowy: Treasure Hunter today!
Screen Shots
---
---
Last Review
---
what up ppl

country girl
May 19, 2013
---
what up to all my friends and lilwayne1 im sorry i havent been on in a while ive been busy with tests (mct2).
country girl
May 17, 2013