Free typing tutor * Online typing test * Typing games
Snowy: Treasure Hunter
Snowy is on the hunt for riches and fame. Help him today!
---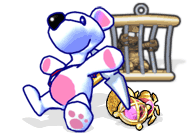 Who says polar bears want to stay in the Arctic? Snowy the Bear craves excitement more than a home on the ice! In Snowy: Treasure Hunter, the adorable white bear grabs his pick axe and shoulder bag, and sets out to collect riches as he travels through three beautiful game worlds. Throughout his side-scrolling adventure, Snowy must dig holes in platforms and use special items to outsmart one devious enemy after another. Play Snowy: Treasure Hunter today!
Screen Shots
---

RapidTyping Reviews
---
Rapid Typing is housed in a simple but beautiful interface and it is easy to use, you only have to press the letters shown on screen. Of course if you do not look at the keyboard you will learn more and faster. Furthermore if you are not used not to look at it you can show a keyboard on screen, so you can get used to look at the screen instead of at the keyboard.
jooseng
---
If you need to improve typing efficiency look no further just install this software and follow the tutorials. I used to type very slowly but after finding this software I can see great improvements.
Indranil Roy
---