Touch Typing Tutor Manual
This manual describes the basic information and use of the Typing Tutor.
How to Begin Lessons
To start your first lesson in Typing Tutor, you have to select the keyboard layout, level and lesson category on the Taskbar shown below.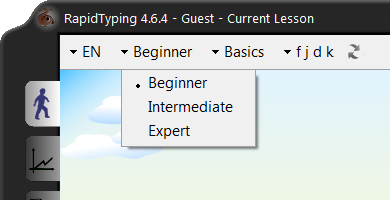 There are four drop-down lists in the top-left corner of the screen. Therefore, moving from left to right, the procedure will be as follows:
Choose the layout (i.e. the language of your keyboard); it's "EN" on the picture above.
Then, select a level (there are three levels available — Beginner, Intermediate and Expert); it's "Beginner" on the picture above.
Specify lesson category (depending on the level chosen, the available categories may vary); it's "Basics" on the picture above.
And finally, choose the lesson you'd like to study.
When everything is ready, press any key, then put your fingers in the initial position shown on the keyboard and start typing the text.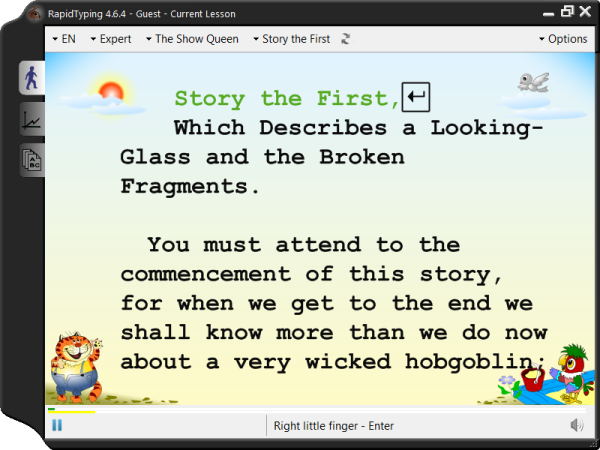 There's also the Lesson Control Panel just above the Keyboard from where you can suspend/resume the current lesson or adjust the sound effects:
To start/resume a lesson, click the button just above the top-left corner of the keyboard.
To pause a lesson, click the button that is displayed instead of the button.
To restart the current lesson, click the button, which is the far right button on the Taskbar.
To enable/disable sounds in the current lesson, click the button located above the top-right corner of the keyboard and set the sounds volume using the vertical slider.

Notes:
You can also set the background image for the Text Panel by choosing an option (Animation, Wallpaper or Plain) from the drop-down list on the Taskbar in top-right corner of the window.
While making your way through the lessons, you'll probably mention two progress bars (one in green and another in yellow) on the Lesson Control Panel.

The green progress bar (upper) shows you the percentage of completion for the current lesson, and the yellow progress bar (lower) reflects the acceptable time period for typing a single character.

When the yellow progress bar runs out at least once, Typing Tutor records that you've broken the rhythm at this character (see How to View and Analyze Your Statistics for details).
Upon the completion of each lesson, the Results window appears. Learn how to estimate your typing progress.
See also: