Free typing tutor * Online typing test * Typing games
Touch Typing Tutor Manual
This manual describes the basic information and use of the Typing Tutor.
User Experience
Once you've configured settings in Wizard, RapidTyping's main window will appear as shown below.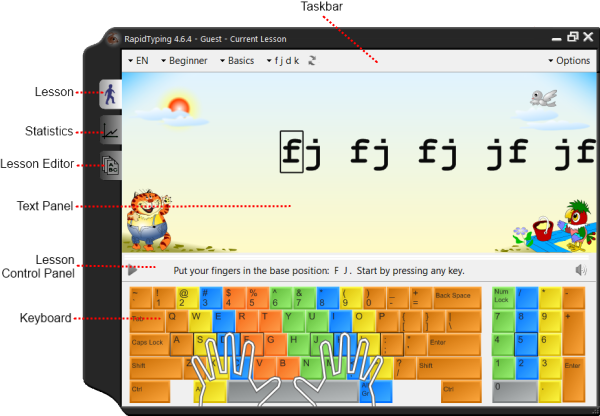 The window is composed of the following controls:
Taskbar

lets you set or change on the fly some basic options to start a lesson (keyboard layout, level, lesson) and options.
Three vertical buttons in the top-left corner (

Lesson

,

Statistics

and

Lesson Editor

) are used for switching between current lesson, User Statistics and Lesson Editor.

Text Panel

is the area where the text to be typed is displayed. You can easily edit it in Lesson Editor, if necessary.

Lesson Control Panel

includes several controls to pause/resume the current lesson, enable/disable sounds, and adjust the sound volume.
And

Keyboard

is the virtual keyboard that will help you to learn touch typing with all ten fingers. You can customize its appearance in the ' Lesson' section.
When you're quite familiar with the Typing Tutor interface, learn how to start your first lesson. Don't forget to also check our shortcuts - they'll make your interaction with Typing Tutor even more quick.
See also:
RapidTyping Reviews
---
Rapid typing tutor is very best and helpful to me. It increases my speed in typing.
The online test is also helpful. It is very useful software.

Shanaya
---
very good software from beginners to advanced ones thanx for making it a freeware
vandana
---