RapidTyping features
Improve your typing skills through a series of easy lessons. Learning how to type properly without looking at the keyboard is simple. RapidTyping makes keyboard training fun and entertaining.

Full courses for Beginner, Advanced and Expert typists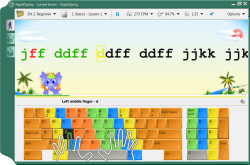 Introduction course. First time using keyboard. The course covers all characters typed on your keyboard.
Beginner course. This course helps to learn the position of keys on the keyboard. After completing this course, you will know which finger to use to hit each key without looking at the keyboard. The course also covers upper-case letters, special symbols, and the numeric pad.
Advanced course, helps to improve your typing speed by memorizing frequently used syllables and words.
Expert course helps you to perfect the skills acquired by typing an actual text.
Note: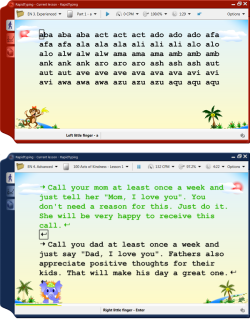 Introduction and Beginner courses are available for all keyboards.
Experienced and Advanced courses are available, on the moment, only for following keyboards:

Arabic
Dutch
English
Finnish
French
German
Greek
Hungarian
Russian
Spanish
Virtual Keyboard
To help you learn how to place your fingers on the keyboard, Typing Tutor displays a virtual keyboard with zone highlights. In this way, you'll always know which hand belongs to which zone.
This way, you'll always know which hand belongs to which zone.
Typing Tutor supports all famous keyboard layouts:
QWERTY, QWERTZ, AZERTY
Dvorak, Dvorak for left or right hand
BEPO, Colemak, ABNT2
and many others.
Also RapidTyping supports:
one, two and tree block keyboads
the Numeric pad and Ergonomic keyboard is also covered
Moving Hands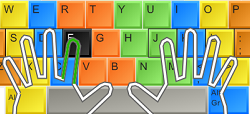 To further simplify your typing lessons, Typing Tutor displays moving hands over the keyboard. The hands show which finger you have to use to press the current key.
also, one Left/Right hand use is supported;
Classroom is supported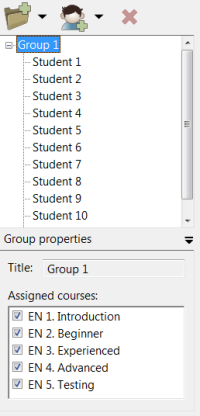 We recommend installing RapidTyping on a local server in a classroom, so that it can be easily run on each workstation over the network.
Student statistics from the teacher's computer in real-time, over the local network
In classrooms without a local network, students can save the results to file
Convenient for adding a large number of students
Different courses assigned to different student groups
Observe over all group progress
Student password
The simplest customization: simple to unpack(or install) the RapidTyping distribution to the network folder with access for students.
Progress Tracking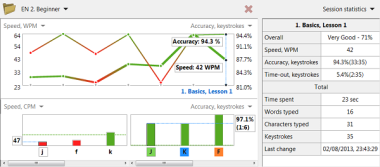 The statistics reflect your typing speed, accuracy and time-out, complete with a summary at the end of each lesson
and it suggests your next step: Go to the next lesson or Try again comparing the results with Course goals ( you can customise this )
You can evaluate your own performance or that of your kids or students at any time by simply looking at charts. Rapid Typing Tutor tracks your progress, and allows you to view your results at any time.
overall lesson rate, typing speed( WPM, CPM, KPM, WPS, CPS, KPS ), accuracy and time-out are enabled in the both: table and chart presentation
also, for each lesson, statistics by each character and keystroke in the column charts
Lesson editor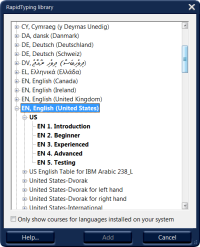 Because of your system's Regional Setting has specific settings RapidTyping has only suggested a small number of courses, by default. If you want to have more courses the RapidTyping library will help you.
You can always insert courses from the library or create your own
RapidTyping library has different courses for all languages
The library is constantly updated with new courses
Typing Tutor allows access to any course/lesson at any time, from easiest to most advanced
Make Your Own Plan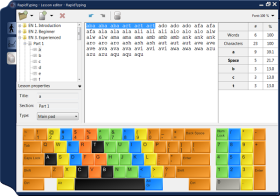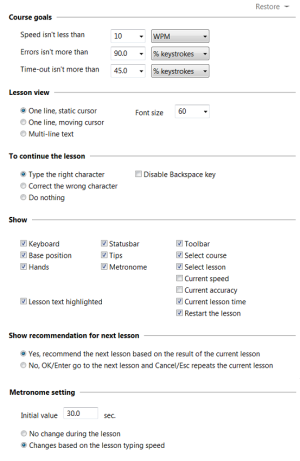 Plan your lessons according to your( or your students ) skills and capabilities. Rapid Typing Tutor offers you complete freedom of learning, allowing you to make your own lessons and plan your studies.

You can create a course of your own.
RapidTyping offers a built-in Lesson Editor that lets you:

insert txt or rtf text from file(s) of any size
split a long text into lessons of specific length
customise the course goals and the lesson view settings

The editor shows the number of words and symbols in a lesson and the ratio of letters and the TAB and ENTER - special keys.
The editor filters out symbols that are missing on the existing keyboard from the imported text (such as special Word symbols or foreign-language symbols)
Symbols covered by the lesson are highlighted on the virtual keyboard
Simple and colourful program interface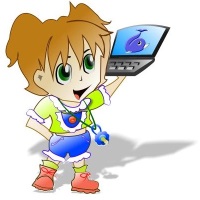 Typing Tutor is not just another boring keyboard training tool. With numerous colorful themes and lesson wallpapers, RapidTyping makes learning typing fun for both adults and children.
Program languages
RapidTyping interface is enabled for the following languages:
Abkhazian
Arabic
Bosnian
Chinese (Simplified)
Chinese (Traditional)
Dutch
English
Finnish
French
German
Greek
Hungarian
Indonesian
Kurdish
Polish
Portuguese (Brasil)
Russian
Serbian
Slovenian
Spanish
Turkish
Ukrainian
Finally RapidTyping is absolutely free!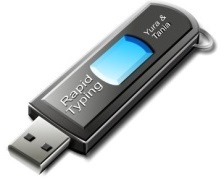 We do not sell RapidTyping, it REALLY is FREE!
it's free for personal or corporate use
no registration or usage limitations
no toolbars or adware
no Internet-access needed to run the program!
There's also a portable version of RapidTyping. The portable version means that it does not need to be installed on your PC and it can run straight off a USB flash drive or any other type of media.