Free typing tutor * Online typing test * Typing games
Arabic Typing Tutor
Learn and improve your typing speed in Arabic.
Home Page: Croisoft
Platform: Windows 2000/XP/XP/Vista
Licence: Shareware, $9.95 USD
Size: 1.4MB
Publishers description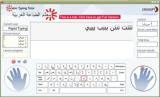 Arabic Typing Tutor is an application that offers the opportunity to learn touch typing in Arabic, learn the technique to touch type in Arabic with ease. Intended for all age-ranges, both children and adults can start learning at their own paste. For your greater happiness and unlike the majority of solutions of this type, this application targets arabic and non-arabic native speaking, the application interface is available in Arabic, English and French.
With Arabic Typing Tutor, You have by default, a set of practical lessons that increases in difficulty throughout your progress.
Screen Shots
---
RapidTyping Reviews
---
i like this software
mandeep kaur
Oct 01, 2016
---
AMAZING SOFT WARE FOR PRACTICE IN ARABIC.
SYED ZAFARUL HASAN
Sep 19, 2016
---