Free typing tutor * Online typing test * Typing games
Bruces Unusual Typing Wizard
This typing tutor helps both beginners and experienced typists gain speed and accuracy.
Home Page: Bruce
Platform: Windows 98/Me/NT/2000/XP
Licence: Freeware, $0 USD
Size: 0.6MB
Publishers description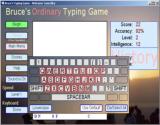 Bruces Unusual Typing Wizard is well constructed typing tutor to learn and practice typing. It is designed to accommodate both beginners and experienced typists who are looking to gain speed or accuracy. This software also has a unique algorithm, which is able to detect if a user is typing slightly off and adjust the typing position. This eliminates frustration of typing many mistakes when a letter is omitted or added. A game is also included, in order to help practice unusual letter combinations. Multiple users are supported and each stores its own statistics. The user can change the text that is used to practice typing, in order to practice something more familiar, if that is desired. This feature can also be used to input a different language to practice. The on-screen keyboard and the game can also be modified to accommodate any Western language or keyboard layout.
Screen Shots
Main Bruces Unusual Typing Wizard advantages
simple-looking piece of software
statistics for several users
game included
---
RapidTyping Reviews
---
Really cool, thanks for sharing it for free with the public.
mehak
---
this helps me with my college work and making videos! i can type so much quicker! i practiced typing for years but never got the hang of it until i used this software! this is awesome you need to download it!
offical PLMyt
---