Free typing tutor * Online typing test * Typing games
Data Entry Test
Try the Data Entry Test 2009 to assess your keyboarding skill
Home Page: testedok.com
Platform: Windows 95/98/Me/XP/Vista
Licence: Shareware, $28 USD
Size: 1.2MB
Publishers description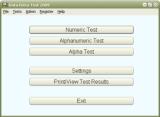 This software will assess keyboarding skills, rating both speed in keystrokes per hour (KPH) and accuracy. Alpha, alphanumeric and numeric (10 key) testing modules included. Network ready, it is suitable for use in schools, employment agencies and companies. Individuals will find the program useful for self testing and to practice their keyboarding skills. Read below if you would like to see some of the features the software offers. If you would like to take or administer a keying test right away, download the 30 day fully functional evaluation version.
Screen Shots
Main Data Entry Test advantages
Keystrokes per hour (KPH) and accuracy measured
Keystroke errors are logged. You will be able to see what was data entered versus what was on record
2 entry modes, practice or test
Network enabled
Test windows may be scaled to suit resolution and font size
Very easy to use. Less than 5 minutes learning curve
Keying modules Include alpha, alphanumeric and numeric (10 key) timed tests
Test results saved in file for future printing or browsing
Administrator may create new tests at any time at the click of a button
Test duration of up to 30 minutes
Administrator determines settings such as show test results, time, password, field lengths etc.
No paper to key from, 100% PC based
Cost effective, only $28.00 (US) per workstation
---
---
Last Review
---
Very good program. I had a bit of problems with installing it on a shared drive, but overall very fine for our little children in the school to learn to type and stay motivated. Thank you from all our pupils!
Bert from Belgium
Nov 25, 2014
---
can u add something like nitro type please
esteban ramos
Nov 24, 2014
---