Free typing tutor * Online typing test * Typing games
Kids Typing Skills
A fun way for your child to learn to touch type. Written by Paul Rowlingson.
Home Page: KIDwareSoftware
Platform: Windows 95/98/Me/NT/2000/XP
Licence: Freeware, $0 USD
Size: 2.2MB
Publishers description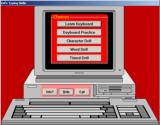 Kids Typing Skills enables you to learn keyboarding, or typing. It teaches you important knowledge about the keyboard, how to match your fingers to the correct keys, and allows you to practice with keyboard drills, character drills, and word drills. With this program you can take timed tests to determine and improve your keyboarding speed.
Screen Shots
---
RapidTyping Reviews
---
Really cool, thanks for sharing it for free with the public.
mehak
---
this helps me with my college work and making videos! i can type so much quicker! i practiced typing for years but never got the hang of it until i used this software! this is awesome you need to download it!
offical PLMyt
---