Free typing tutor * Online typing test * Typing games
Kids Typing Skills
A fun way for your child to learn to touch type. Written by Paul Rowlingson.
Home Page: KIDwareSoftware
Platform: Windows 95/98/Me/NT/2000/XP
Licence: Freeware, $0 USD
Size: 2.2MB
Publishers description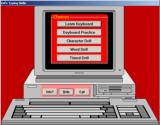 Kids Typing Skills enables you to learn keyboarding, or typing. It teaches you important knowledge about the keyboard, how to match your fingers to the correct keys, and allows you to practice with keyboard drills, character drills, and word drills. With this program you can take timed tests to determine and improve your keyboarding speed.
Screen Shots
---
---
Last Review
---
I love this program! It's amazing how the first and second graders learn to type using both hands and lots of their fingers!
Thanks a lot!
Danae
Nov 19, 2014
---
This site is a nice way for kids starting out to get interested in typing. most of the games are enjoyable. I would say, add more appealing games on to the site. Add more colorful characters and story to games such as the typing game clockwords act 1 did. I would definitely be more interested in this site for keyboarding class if you did. I hope you appreciate the feed-back! :)
Muffinpony
Nov 17, 2014
---