Free typing tutor * Online typing test * Typing games
Kids Typing Skills
A fun way for your child to learn to touch type. Written by Paul Rowlingson.
Home Page: KIDwareSoftware
Platform: Windows 95/98/Me/NT/2000/XP
Licence: Freeware, $0 USD
Size: 2.2MB
Publishers description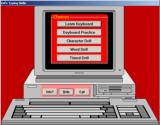 Kids Typing Skills enables you to learn keyboarding, or typing. It teaches you important knowledge about the keyboard, how to match your fingers to the correct keys, and allows you to practice with keyboard drills, character drills, and word drills. With this program you can take timed tests to determine and improve your keyboarding speed.
Screen Shots
---
---
Last Review
---
its great for kids with all the games! The puzzle games are the best. Time flies by when playing the key memory game!
Barb
Jul 27, 2014
---
It's very useful and a must-have piece of software. So glad I found this superb Typing Tutor. The good thing of this it's 100% freeware. Best of best..

Thanks in a million..
Remz
Jul 23, 2014
---