Free typing tutor * Online typing test * Typing games
Kids Typing Skills
A fun way for your child to learn to touch type. Written by Paul Rowlingson.
Home Page: KIDwareSoftware
Platform: Windows 95/98/Me/NT/2000/XP
Licence: Freeware, $0 USD
Size: 2.2MB
Publishers description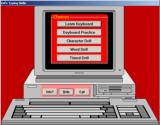 Kids Typing Skills enables you to learn keyboarding, or typing. It teaches you important knowledge about the keyboard, how to match your fingers to the correct keys, and allows you to practice with keyboard drills, character drills, and word drills. With this program you can take timed tests to determine and improve your keyboarding speed.
Screen Shots
---
---
Last Review
---
Best way to memorize your keyboard. superb site !! been playing like a kid.
hehe :) I'll throw in a challenge for game developers of this site. Make a game with only audio dictation. In which a person will have to type without reading the words or lines.
Victor Tran
Oct 16, 2014
---
I absolutely love this site because of its typing games! I love typing and everything about computers! Keep on adding games and I will keep on playing them! :)
Joe Davis
Oct 15, 2014
---