Free typing tutor * Online typing test * Typing games
Kids Typing Skills
A fun way for your child to learn to touch type. Written by Paul Rowlingson.
Home Page: KIDwareSoftware
Platform: Windows 95/98/Me/NT/2000/XP
Licence: Freeware, $0 USD
Size: 2.2MB
Publishers description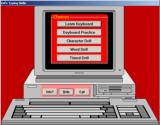 Kids Typing Skills enables you to learn keyboarding, or typing. It teaches you important knowledge about the keyboard, how to match your fingers to the correct keys, and allows you to practice with keyboard drills, character drills, and word drills. With this program you can take timed tests to determine and improve your keyboarding speed.
Screen Shots
---
---
Last Review
---
hello,
i am bhumi and i like this rapid typing.
because it learn how can we increase our typing speed.
bhumi
Sep 02, 2014
---
I love it, I just love it!
Thank you so much for it.

But please complete farsi (persian) pack.
It's really incomplete for a long time.

Thank you so much.
PinkPanther
Aug 30, 2014
---