Free typing tutor * Online typing test * Typing games
Kids Typing Skills
A fun way for your child to learn to touch type. Written by Paul Rowlingson.
Home Page: KIDwareSoftware
Platform: Windows 95/98/Me/NT/2000/XP
Licence: Freeware, $0 USD
Size: 2.2MB
Publishers description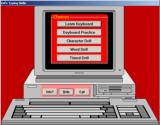 Kids Typing Skills enables you to learn keyboarding, or typing. It teaches you important knowledge about the keyboard, how to match your fingers to the correct keys, and allows you to practice with keyboard drills, character drills, and word drills. With this program you can take timed tests to determine and improve your keyboarding speed.
Screen Shots
---
RapidTyping Reviews
---
I have learned a lot from this typing website, the only thing I think that needs improvement is teaching how to type the keys, and how to click the right keys. Other than that its pretty amazing.
Lillith
Apr 02, 2015
---
My mother is learning to type with the Typing Tutor. Thank you very much for sharing free. Blessings.
Brenda
Mar 29, 2015
---