Free typing tutor * Online typing test * Typing games
MaxType Lite
MaxType LITE Typing Tutor: Multifunctional Freeware Typing Tutor
Home Page: AskMeSoft
Platform: Windows 95/98/Me/NT/2000/XP/2003 Server/Vista
Licence: Freeware, $0 USD
Size: 1.9MB
Publishers description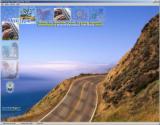 MaxType LITE Typing Tutor is a free typing tutor for Windows. This program allows you not only to test and practice your typing skills with any *.txt file, but to print out your test diplomas (statistical data will give you the information about 20 parameters of your typing) and even replay the mtr-record file of your own typing. Built-in Extreme Typing mode allows you to compete in speed of typing against any mtr-record file from your collection.
Screen Shots
Main MaxType Lite advantages
"Qwerty", "Dvorak", "Azerty" and Russian keyboard layouts support.
Multiple-users interface - accounts can be password-protected. Flexible settings for each user.
Measures typing speed in CPS, CPM or WPM.
Measures typing speed for each hand.
Generates beautirul report with a lot of statistical data which can be printed as well.
The two different modes of learning will make the learning process varied and interesting.
---
RapidTyping Reviews
---
Really cool, thanks for sharing it for free with the public.
mehak
---
this helps me with my college work and making videos! i can type so much quicker! i practiced typing for years but never got the hang of it until i used this software! this is awesome you need to download it!
offical PLMyt
---