Free typing tutor * Online typing test * Typing games
Stamina
Stamina Typing Tutor - amusing, yet multifunctional typing tutor with support for several layouts.
Home Page: TypingSoft
Platform: Windows 98/Me/NT/2000/XP
Licence: Freeware, $0 USD
Size: 1.3MB
Publishers description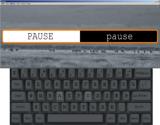 Amusing, yet multi-functional touch-typing tutor with support for several layouts, like QWERTY or Dvorak. After having gone through the fire, water and the course, you will be able to swiftly type away long e-mails (spam), efficiently misbehave in chat rooms, ICQ, and so on without ever looking at the keyboard.
Only in Stamina Typing Tutor besides the traditional finger positioning on the keyboard are you offered an alternative method (to reduce hand stress)!
Screen Shots
Main Stamina advantages
Support for several layouts and languages


Lessons designed for mastering certain keys


Work with real text to achieve unreal speeds


Choice of entering text from an external file


Lesson editor


Precision clock with fine tuning, -> precise results


Timer... simply a timer


Graph of speed changes during a session


Progress graphs by days and sessions


Statistics: how much has been keyed in (in Kb) and how long it took


Illumination of letters and finger work zones on the virtual keyboard


Super MP3 sounds and duper songs a Playlist


Support for several users


User-friendly thought out interface


Customizable appearance


Detailed help with a logic game
---
RapidTyping Reviews
---
Rapid typing tutor is very best and helpful to me. It increases my speed in typing.
The online test is also helpful. It is very useful software.

Shanaya
---
very good software from beginners to advanced ones thanx for making it a freeware
vandana
---