Free typing tutor * Online typing test * Typing games
TypeFaster Typing Tutor
Download a fully functional free typing tutor that supports multiple keyboard layouts, multiple users and includes a 3D game.
Home Page: Type Faster Typing Tutor
Platform: Windows 95/98/NT/2000/XP, Linux/BSD/UNIX-like OSes, Linux
Licence: Freeware, $0 USD
Size: 1.9MB
Publishers description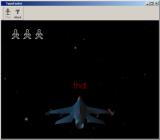 A typing tutor that teaches you to touch type. It supports French, German, Portuguese, US-Dvorak, US-English, Hebrew, Numeric-keypad and more. Typefaster accessible is for blind users. Full Spanish version also. Includes a 3d game. Teacher class support.
Screen Shots
Main TypeFaster Typing Tutor advantages
Supports multiple keyboard layouts and more can be added easily (see the developers section). Includes support for non-rectangular keys
A 3D typing game.
Variable text size.
Teacher support (view student statistics).
Interface for editing lesson files and game settings.
Lesson files can be prose or poems.
Lesson progress indicator.
Right to left text support.
Typing statistics and the option of practising the least accurate/slowest/custom keys.
A clear indication of which fingers to use. This is the essence of touchtyping.
Keyboard is not a fixed size (resolution independent).
Backspace support
Multi-user support.
Completely free with full source code availability.
---
RapidTyping Reviews
---
this helps me with my college work and making videos! i can type so much quicker! i practiced typing for years but never got the hang of it until i used this software! this is awesome you need to download it!
offical PLMyt
---
The most important part of learning how to type is understanding which finger to use for each letter. Following those rules allows for greater speed and a dramatic increase in words-per-minute. The reason the Rapid Typing Tutor is such effective teaching software is because it displays the virtual keyboard and hands at the bottom of the screen, and for each letter, it teaches the student which finger to use.
Rakesh Mehra
---