Free typing tutor * Online typing test * Typing games
Typing Reflex
Typing Tutor Typing Reflex - The fast way to type better
Home Page: TypingReflex
Platform: Windows 95/98/ME/NT4/2000/XP
Licence: Shareware, $24.95 USD
Size: 3.26MB
Publishers description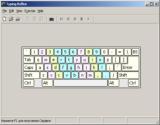 The Basic lessons course is specially designed to full and fast learn or adjust touch-type technique at any English (US, UK, Dvorak) or European layouts. It is 4-12 hours required depending on your current skills. Additional courses are included to increase typing speed. The program can be used personally, or at school, or corporate network. Detail reports let trace personal or group training progress, lessons and course efficiency.
Screen Shots
Main Typing Reflex advantages
Simple keystroke scheme.


Gradual increasing of exercise complexity.


Punishment for errors as incomplete line.
---
RapidTyping Reviews
---
Really cool, thanks for sharing it for free with the public.
mehak
---
this helps me with my college work and making videos! i can type so much quicker! i practiced typing for years but never got the hang of it until i used this software! this is awesome you need to download it!
offical PLMyt
---