Editor's Review from Softonic.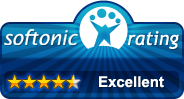 Learn touch typing with the help of this fun tutor
by Francesca Migliorini, editor Softonic
Rapid Typing is a fast and useful application that allows you to improve your typing skills, both in accuracy and speed. The interface is fairly clear, although maybe you will have to disable the aquarium animation set as default in the background as it can disturb you when concentrating on your exercises. You can do that, in the option menu, ticking the animation option and if you wish, choosing a background colour, although the white one, is probably the clearer.
When you start the session, simply type the letters you see on the screen, without looking at your keyboard. Exercises are increasingly difficult and test you on specific letters each time, until you are able to remember better what's where.
If you don't know which is the correct finger to use to press a letter, press the Show/Hide Virtual Keyboard button, on the far bottom of the main frame. You'll get a representation of your hands, telling you with which finger you should use to press the key.
At the end of each session the program tells you how many mistakes you made and how fast you have been, showing you a graph of your improvements.
With Rapid Typing you can improve your typing speed and accuracy when using your keyboard with increasingly more difficult exercises. Although 's very easy to use, it lacks of an initial explanation on how to position and move your fingers, so two-finger typers might have to look for an alternative training method.
Languages:
English, Dutch, French, German, Italian, Portuguese, Russian, Bosnian, Spanish, Ukrainian, Turkish, Slovak.
OS requirements:
OS: Win2000/XP/Vista
Minimum requirements:
Memory: 64 MB
Pros
-Increasingly more difficult exercises
-Final graph with accuracy and typing speed (CPM)

Cons
-It lacks of an initial lesson on how to position your fingers