Description
Learn how to use your keyboard in a fun and entertaining way for absolutely free. Rapid Typing Tutor is designed to teach adults and kids to use their computer keyboard more efficiently than ever. Learning to type is fun with the typing game included with Rapid Typing Tutor, while its extensive training statistics and customized lessons are rarely seen in the much more expensive products.
---
Full courses for Beginner, Advanced and Expert typists
The beginner course helps to learn the position of keys on the keyboard. After completing this course, you will know which finger to use to hit each key without looking at the keyboard. The course also covers upper-case letters, special symbols, and the numeric pad.
The advanced course helps to improve your typing speed by memorizing frequently used syllables and words.
The expert course helps you to perfect the skills acquired by typing an actual text.
---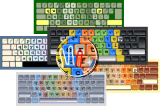 Virtual Keyboard
To help you learn how to place your fingers on the keyboard, Typing Tutor displays a virtual keyboard with zone highlights. In this way, you'll always know which hand belongs to which zone.
This way, you'll always know which hand belongs to which zone.
Choose Your Keyboard
Typing Tutor supports almost all keyboard layouts, included QWERTY, Dvorak, Dvorak for left or right hand, BEPO, Colemak, QWERTZ, AZERTY, ABNT2 and many others layouts.
RapidTyping supports one, two and tree block keyboads. The numeric pad is also covered.
Moving Hands
To further simplify your typing lessons, Typing Tutor displays two moving hands over the keyboard. The hands show which finger you have to use to press the current key.
---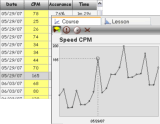 Progress Tracking
You can evaluate your own performance or that of your kids or students at any time by simply looking at charts. Rapid Typing Tutor tracks your progress, and allows you to view your results at any time.
Your statistics are represented as tables and charts, allowing you to view your progress and motivating you to take yet another lesson.
The statistics reflect your typing speed and accuracy, complete with a summary at the end of each lesson.
---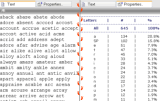 Lesson editor
You can also create a course of your own. RapidTyping offers a built-in course editor that lets you insert txt or rtf text segments of any size.
The editor can split a long text into lessons of specific length.
The editor shows the number of words and symbols in a lesson and the ratio between letters and the TAB and ENTER special keys. The editor filters out symbols that are missing on the existing keyboard from the imported text (such as special Word symbols or foreign-language symbols).
Symbols covered by the lesson are highlighted on the virtual keyboard.
---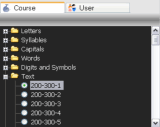 Make Your Own Plan
Plan your lessons according to your skills and capabilities. Rapid Typing Tutor offers you complete freedom of learning, allowing you to make your own lessons and plan your studies. No need to force yourself into a Procrustean bed of pre-defined learning plans!
Rapid Typing Tutor allows accessing any lesson at any time, from easiest to most advanced.
---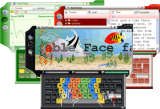 Uses the simple and colourful interface.
Typing Tutor is not just another boring keyboard training tool. With numerous colorful themes and avatars and a game-like environment, Typing Tutor makes learning typing fun for both adults and children. A built-in typing game makes learning to type an easy and entertaining experience.
---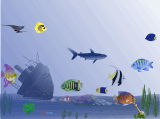 Typing game
The built-in typing game makes your training more like a game, not studying. Your training will take place under the water. The better typist you become the more colorful creatures you will see.
---
Classroom use
Multiple users with custom settings are supported. We recommend installing RapidTyping on a local server in a classroom, so that it can be easily run on each workstation over the network.
---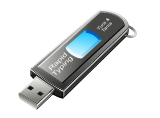 Possible for run without installation.
There is a portable version.
-Download formats: ZIP-archives, Windows SFX-archives.
---
---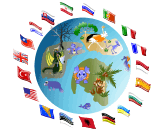 Multi-Language interface.
Interface language are available for your choice.
Albanian, Arabic, Bosnian, Bulgarian, Chinese Simplified, Chinese Traditional, Dutch, Estonian, English, Estonian, Farsi, French, German, Greek, Indonesian, Italian, Latvian, Lithuanian, Portuguese, Portuguese Brazilian, Russian, Serbian, Slovak, Spanish, Turkish, Ukrainian
---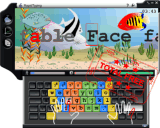 RapidTyping is completely free.
-No usage limitation. Free for personal or corporate use.
-We don't ask you for your mail or registration.
-No nag-screens.
-No spyware/adware in the software.
And of course you don't have to pay to get the software and share it with friends.