Touch Typing Tutor Manual
This manual describes the basic information and use of the Typing Tutor.
How to Interpret Your Results
Each time you complete a lesson, the Results dialog window displays your achievements in this lesson.
The Results dialog window consists of two tabs called Rating and Errors. The first one looks like this: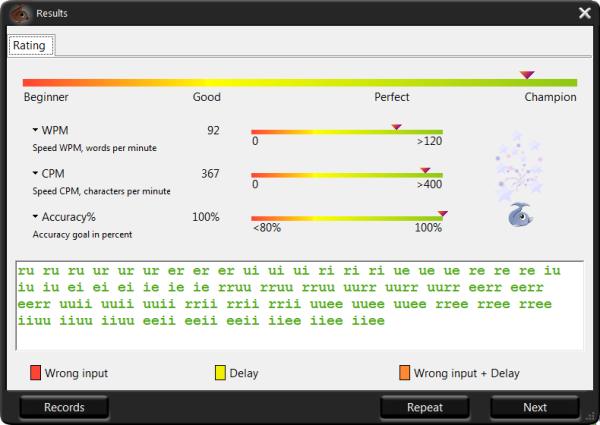 Here, you can review your metrics: overall skill level between Beginner and Champion (upper slider indicator) as well as words per minute, characters per minute and accuracy in percent (three remaining sliders below).
In the text area, you can check your mistakes that occurred during the lesson. The color indication is as follows:
Green

letters denote right inputs.

Yellow

letters stand for right inputs exceeding the acceptable timeframe.

Red

letters denote wrong inputs within the acceptable timeframe.

Orange

letters indicate wrong inputs that also exceed the acceptable timeframe (it's the worst result).
Error window
On the Error tab you can view your detailed statistics for the current lesson: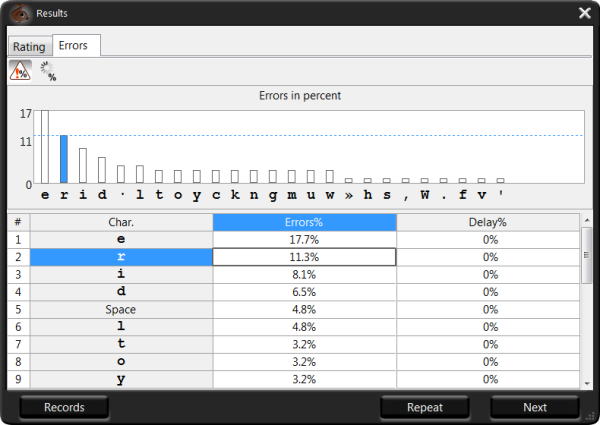 This tab shows your errors and delays percentage both in the graphical and table view. This will help you to better understand which letters are still hard for you to type. You can switch between the Errors in percent chart (by clicking the

button just below the tabs) and Delay in percent chart (by clicking the

button).
On the bar chart, the X-axis corresponds to the letters used in the lesson, while the Y-axis shows you the errors/delays related to each letter. If there aren't any errors and delays for a certain character, it won't show up on the chart. The table below represents the same data with the exact numbers.

Note: When you select a row in the table, the corresponding bar on the chart will be highlighted. When you select a column in the table, the chart will show either errors or delays.
Then, you can click the Next button below to proceed to the next lesson, Repeat to go through this lesson once again, or Records to check whether your results are great enough for Typing Tutor's Hall of Fame.
To view the results of all the lessons that you've already completed (not only the current one), go to the Statistics section.
See also: